Tourist programs including hotel research and individual
guest management - Welcome to Dusseldorf!
As one of the oldest DMC in Düsseldorf, Cultour recognized the special needs of the guests in terms of individuality at an early stage. Especially for the hotel industry we offer now for 25 years individual guided tours or programs of several days.
1 / 10
The old town on the Rhine
2 / 10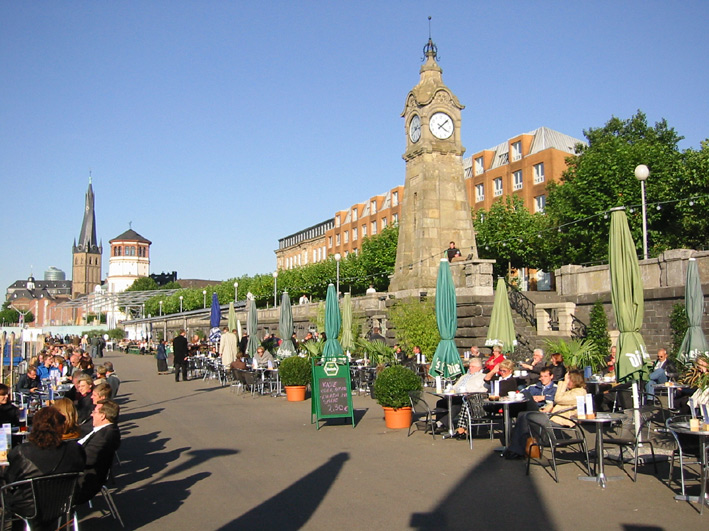 Highlight: Rhine Promenade
3 / 10
Social life Rhine Promenade
4 / 10
Our guide at the town hall from 1572
5 / 11
Old photos convey history
6 / 10
A guided tour also in costume
7 / 10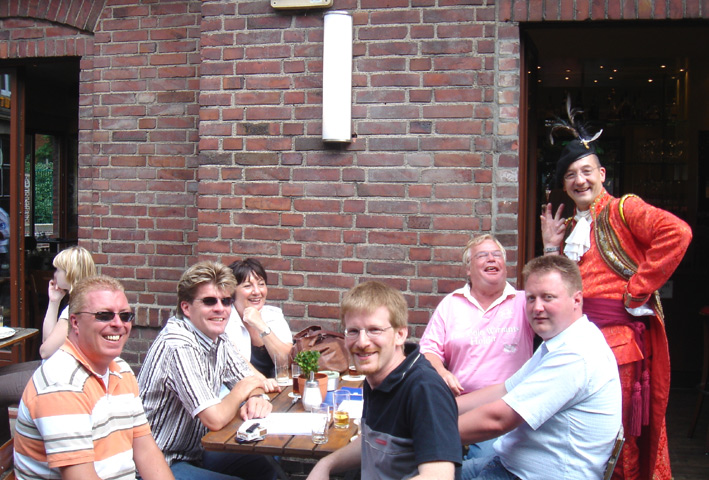 More than 300 pubs - pure joie de vivre
8 / 10
Rhine promenade with castle tower
8 / 10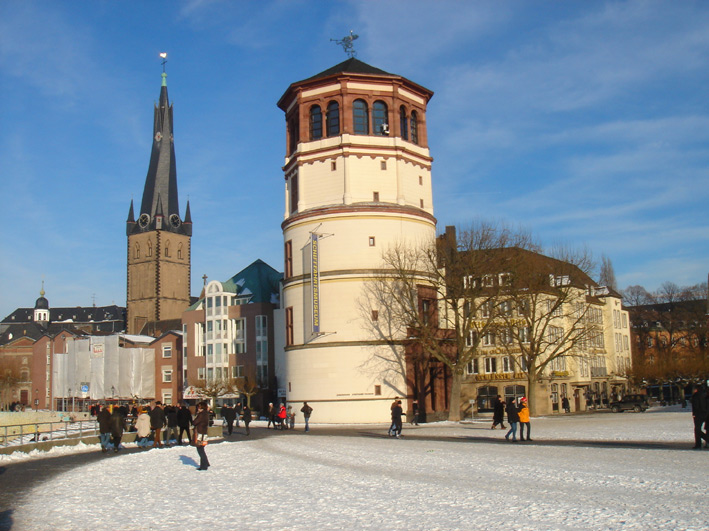 Rare: The castle tower and snow
9 / 10
In the evening it becomes romantic
❮
❯
Our focus is of course on the 800 year old state capital Dusseldorf. Situated on the famous Rhine, the city is known for its Rhenish lifestyle, luxurious shopping districts and the unique atmosphere of the historic old town. The following special tours through Düsseldorf, for example, have been developed and successfully carried out in recent years:
Guided tour with beer tasting
Special guided tours for families with children
History around Napoleon
Dusseldorf in WW2
Medieval castles in the surrounding countryside
Especially the 5-star houses of Düsseldorf have been entrusting us with their guests for years. This is for example how 5*-Hotel Breidenbacher Hof describes the service of Cultour:
"The enourmous professional competence, flexibility and passion for the history and topically of our beautiful city inspire our guests."
Individual city tours
and sightseeing tours
Individual tours in Duesseldorf or Cologne and of course in the surrounding area have been our main focus since 1996
The 1st class hotels in Duesseldorf, such as the Interconti, the Capella-Breidenbacher Hof or the Hyatt, have been trusting us for a long time. For around 24 years, the event agency Cultour Eventmanmagement has regularly invited their guests for city tours. Half-day and full-day tours to the Middle Rhine, the Ahr valley, the Ruhr area or any parts of Germany etc. are also possible at any time.
VIP Guest care
But also a large number of international groups and companies have been using the services of the event agency for more than 24 years and are booking our attractive city tour and city tour for your VIP guests and employees.
One thing is particularly important to us: Reliability, discretion and absolute readiness for service are the top priorities, especially when looking after high-ranking VIPs . Together with the client, the event agency Cultour develops an individual program that is precisely tailored to the respective guest and their interests. More than 90 successful projects on the subject of VIP city tours in D & uuml; sseldorf, in 2019 alone, speak for themselves!
Of course, we can also organize appropriate transfer services, restaurant bookings or other individual services.
City tour in a class of its own
Boring years were yesterday! Equipped with historical photos and maps , the guides from the event agency Cultour draw a lively picture of the city and tell numerous anecdotes and stories. The city guides accompany the guests in Dusseldorf not only to the most important sights, but also show almost forgotten corners and places, even some of the long-established ones Citizen does not know. Whether the focus is on a brewery tour or more architectural areas, every program, be it in Cologne or in Duesseldorf it is individually designed and tailored to the guest.

Did you know, for example, that Elector Jan Wellem once had more lanterns set up in Dusseldorf than there were in Paris during his time? Or that his wife, Anna Maria Luisa von Medici, was called the "inventor" of the modern marriage contract applies? Or that the old town of Dusseldorfer actually has the "longest bar in the world"?
In addition to German, the event agency Cultour Eventmanagement offers its city tour in over ten other languages
On request, our guides can also act as Heinrich Heine or Napoleon, of course in historical costumes . City tour with a difference! During our city tours, a wide variety of tourist sights and interesting places are approached, such as the world-famous Konigsallee, the Japanese quarter or the Medienhafen with its impressive architectural buildings in Dusseldorf. In comfortable coaches, in classic limousines or in unique vintage vehicles , our guides bring the guests closer to the state capital of Dusseldorf.
And here we have provided you with the most important information for your city tour, city rallies and other tourist activities:
So if you or your guests are in the Rhineland soon and are looking for a really interesting and entertaining city tour - the event agency Cultour from Dusseldorf looks forward to your inquiry and will be happy to work out an individual offer for your visit!